This year, on January 28th the world gets to celebrate the Chinese New Year and welcomes the year of the Rooster. 2017, is the year of the Fire Rooster, which has come after 60 years.

Did you know? Each Chinese Zodiac is also aligned with the five elements, which are- fire, water, wood, earth and gold.

Every year the Chinese families reunite to celebrate the arrival of another year and a new cycle of love, luck and success for the various Chinese zodiacs. These celebrations generally include hanging red lanterns, giving red envelopes of money to children, sharing of dumplings over dinner and distributing fortune cookies to all!

That's where we come in; Amazeology helps you celebrate Chinese new year in the cutest way possible! You can now customize your fortune cookies to your liking and get them delivered to your doorstep, anywhere in Australia.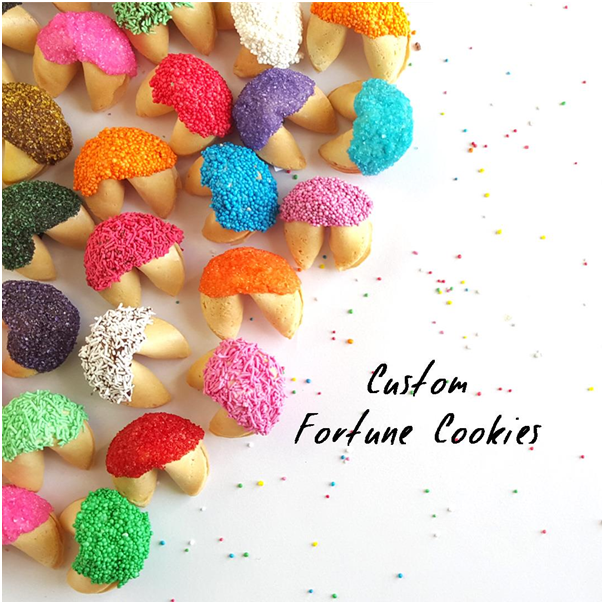 All you need to do is; log on to www.amazeology.com click on the "fortune cookies" option on the home page and start customizing your favorite cookies! You have the option of dipping your fortune cookies in delicious chocolate (milk, white or dark) and getting it covered in sprinkles (any color of your liking). You can even customize the fortune that's put in (up to 5 messages per pack) or you could opt to surprise yourself and let us put in the messages. Intrigued, yet? But the best is yet to come!

* drum roll, please *

You can, now for the first time n Australia, even get an image printed on your fortune cookie itself or its cover, by simply uploading it via Facebook, Instagram or the gallery in your laptop or phone. Alternatively, we could also print a personal message for you or you could choose an image from our ever increasing inspiration gallery.

What you waiting for- go order you box of wondrous delight today!
Here are a few adorable ideas for you to borrow:

You could get the Fire Rooster symbol printed on the fortune cookies.
Get the fortune cookies dipped in red sprinkles (red, being one of the most popular colors of the Chinese new year).
Personalize the fortunes with your favorite Chinese quotes and proverbs. Our favorite one is: 'A wise man makes his own decisions; an ignorant man follows the public opinion'.
You could also play a prank on your friends and get funny fortunes printed! For example, a fortune could read, 'You will be hungry again, in one hour'.
Get the wrapper personalized with a message. For Example:
With love and
New Year Greetings,
Changs
And now in accordance with our very own tradition; here's a very special recipe for orange flavored fortune cookies! Here's what you would require:
Ingredients:

2 egg whites
½ cup of all purpose flour
½ cup sugar
2 tablespoons water
1 teaspoon vanilla extract
1 teaspoon orange emulsion or flavoring
Few drops of orange food color (optional)
Directions:

1. Sift the flour and keep aside.
2. Prepare your fortunes on neatly cut rectangular pieces of paper.
3. Preheat the oven to 400 degrees Fahrenheit.
4. In a separate bowl, beat the egg whites till they are frothy and form soft peaks.
5. To the egg whites, add the flour and gently but thoroughly fold it in.
6. Once the two have been mixed well, add and mix in the sugar, orange flavoring, food color and the vanilla extract. Add water to this mixture to bind everything together. The batter thus prepared should have a ribbon like consistency.
7. Use a silicon baking mat, if possible. If you do not have one; prepare a baking tray with parchment paper. Scoop a tablespoon full of batter onto the tray and spread it to form a circle (you could use the convex side of the spoon to do that, though using a spherical cookie cutter would give you more consistency).
8. Bake the cookies for 5 minutes, till the edges have turned light brown.
9. Use a spatula to transfer the cookies to cool working surface. Place the fortune in the middle of the cookie and fold the cookie into half and bend it over the rim of a glass. Work fast before the cookies become brittle.
10. Bake about three cookies at a time and work on the next batch as the previous one cool off!
Tasty Tip- Heat a chocolate-hazelnut spread in a pan and add 50ml of milk to it in order to dilute it. Use it as a dipping sauce with your cookies and serve them with fresh fruit!

That's all for today, log in again to order more delicious delicacies and learn new scrumptious recipes…

And incase you're a Rooster according to the Chinese calendar here's a tiny fortune prediction for you; "This year will be awesome for you and everyone you love!"